Hiring for an executive position can be stressful, not to mention time-consuming. The importance of hiring the right candidate is magnified at the executive level, and competition for these types of positions is stronger than ever. It's completely understandable that a company cannot allocate an appropriate amount of time to hiring someone at an executive level with so many other business demands competing for their time, and that's where Charles Foster comes in.
Above all else, Charles Foster understands that filling a role at the executive level is very different from filling roles at any other level in the organization. There's both an art and a science to selecting the best candidate to take over an executive role. However, the reason that Charles Foster has developed such an excellent reputation in doing so is the same reason that we've been successful at matching job seekers with employment opportunities at other levels in the corporate structure: we understand that the industry is driven by the building and strengthening of relationships.
For over 30 years, Charles Foster has been matching corporations with job seekers at all different levels along the corporate ladder. We understand that different businesses have different needs and demands, and our goal is to provide you with only the best candidates to choose from in order to best satisfy those needs and demands.
Register your profile with us
New to Charles Foster? Upload your resume and start your search with us within minutes.
Employers
Charles Foster specializes in professional staffing and employment options to meet your unique needs, and we maintain an extensive pool of qualified candidates. If you're a hiring manager looking for that perfect candidate to replace an outgoing employee, Charles Foster is here to help.
Job Seekers
Prestigious firms in the Low Country and throughout the country come to Charles Foster because of our great history and reputation in finding only the most qualified employees. If you're a hungry, motivated and skilled job seeker looking for the right place to take the next step in your professional career, Charles Foster is here to help.
Read what the people we've worked with have to say about us:
I retired from the Navy about a year ago and looking to start a career with a new company. I spoke with Alexis and let me tell you that she put all of my concerns and worries aside when reaching out for help. She provided me with tons of feedback on my resume and I am so very grateful for her patience and understanding with my situation. It has been over 20 years since I had to write a resume or even have to look for a job. With Alexis and Charles Foster Staffing, my mind is at ease and I am enjoying working with them!!
Alexis Geddis has been great throughout the entire hiring process. She was very thorough with job placement expectations and the next steps. Please give Charles Foster a chance, you won't regret it 😉
Had the pleasure of working with Charles Foster during my job search before graduation. Dottie and Alexis were extremely professional, punctual, and helpful in the interview process. With their guidance, I was able to secure an offer from a leading engineering firm in the local area. Would highly recommend Dottie and her team!
My firm worked with Dottie and her team to fill a tricky position for us. The Charles Foster team helped our job search run in a smooth and quick manner and were here to help along the way. I highly recommend the Charles Foster team.
Very professional staff. They worked very diligently to find the right match for me. I highly recommend using them for your job search.
Charles Foster is a great business! I temped for them in their office as the receptionist for two weeks, and while I was there they encouraged me to apply for other positions with their clients and offered excellent advice for job hunting and interviewing. I am currently happily temping for one their clients and am hoping to go permanent soon. They genuinely care about placing candidates in jobs that fit both their skill sets and compensation requirements. If you are looking for office work, I encourage you to submit your resume. I have applied with several other employment agencies in Charleston, but Charles Foster is the only one who consistently followed up with me and treated me like an investment.
Dottie and her team delivered an absolute gem of an employee to Twelve South. We are very grateful for their diligent work and success for us.
The ladies in the office are amazing! If you work, you can find it here. They care about the people and are not just trying to fill a quota!
The staff was pleasant from the time I walked into the door for my initial interview. This was my first job interview after 2 years, Dottie and Alexis made me feel very welcomed during the entire process which helped ease my nerves. Alexis made great employer recommendations based on what I was looking for. She made the entire process so easy and it really helped me feel confident returning back to the workforce. The best part is I GOT THE JOB! HIGHLY RECOMMEND!
Very professional and courteous.
This is the first agency that I had gone to in Charleston. The staff is very friendly, attentive and my consultant was focused on my specific goals for a job. I'm thrilled to say that they partnered me with the perfect match.
It has been a pleasure working with Dottie and the rest of the staff at Charles Foster. Everyone is very pleasant and professional. I appreciate that they took the time to understand our needs and worked hard to find the right folks for the job. They were very helpful and communicated openly throughout the process.
They are the best! I love meeting with their staff, and had such a wonderful interview with their VicePresident, Rosamarie Summers. It was amazing to to get to see and feel her personal interest in helping find my dream job which was beyond what I had seen and could have expected from a recruiting company. I sent emails asking questions, and getting replies, and wonderful advices at any hours. I would like everyone to know they are surely ready to help you if your are serious about finding your dream job. Thank you Charles Foster, thank you dear Rose! You've made all the difference 🙂
Wow, I really appreciate the level of professionalism and service when working with Rosemarie Summers to find an event coordinator for our recent event set-up. Rosemarie provided a high quality, responsible temporary event coordinator that helped me with every project in record time. Thanks! - Christine
Looking for a new job but don't know where to start? I highly recommend using Charles Foster Staffing! I was lucky enough to work with Rosemarie. Rosemarie is professional, personable, and caring. It was apparent she wanted to help me find the best position for my personality and aspirations for the future. I was placed at my new job in just 1 week! No need to look anywhere else for staffing agencies.
Working with Charles Foster Staffing (CFS) has changed my perception of staffing agencies. Everyone I worked with at CFS, Julie, Dottie, and Rosemarie, were incomparably professional, offering exceptional support every step of the way. They are not in the business to "find and place candidates", but rather finding out who their candidates are, what their clients seek and desire, and finding the perfect fit for all involved.I am so grateful for the opportunity that was presented to me. Working one-on-one with Rosemarie brought great relief through my bouts of uncertainty. The follow up support and professionalism I experienced were superb. I felt as if Rosemarie took the time to understand my skills and background, as well as get a clear understanding of what I was looking for in a future employer. She was able to find the position that was perfect for me while negotiating on my behalf. I received constant, exceptional support and feedback throughout the entire process, and I cannot thank CFS enough for their assistance.Stepping into today's ever-changing workforce can be daunting to say the least - the very least. If you find yourself in the midst of this daunting task, I would highly recommend reaching out to CFS and allowing them to do what they do best, provide seamless support, guidance, and satisfaction. You could not be in better hands.
Very nice, helpful, and professional. I highly recommend them if you are looking for a staffing agency.
I had a great experience with Charles Foster. Joy was very helpful and responsive. I would highly recommend Charles Foster to anyone looking for a job.
I had a great experience with Charles Foster. The staff members were lovely and my placement consultant really tried to help me find a job that was a right fit for me. I was placed quickly and am now working for that company. I would highly recommend Charles Foster to anyone looking for a job.
I had a great experience working with Joy at Charles Foster! It took a couple months to get the position I was looking for, but once it was found, it was perfect for me. I definitely recommend going to them if you're in need of a job or future career!
I had put my resume in with Charles Foster a few months ago. I worked a temp job and towards the end of my contract I had Joy and and Carley set me up with an interview with a new company. I was happy where I was and hoping my temp job would have continued. However, I am so glad that Carley and Joy were looking out for me and encouraged me to check out the company they had in mind for me. I am VERY happy and feel VERY fortunate that the lined me up with this interview. I have been at my new job for almost a month and I couldn't be happier. Thank you so much Joy and Carley for helping me find my new job. I have never felt more at home or happy with my new career. Both women have reached out to check on my and to see how I was liking my new job. I appreciate their professionalism and their enthusiasm to help me find a job that fits me perfectly.
Great group of people that really care and guide you through today's job searches.
The staff at Charles Foster is always professional, personable and prompt in meeting staffing needs, whether on a temp or long-term basis. And as an employee, you couldn't find a staff working harder to assist you with employment. We DEFINATELY recommend Charles Foster!
Carley and Joy are amazing and very professional. They take a personalized approach in matching candidates with the right employer. I enjoyed working for such a great team!
I was struggling to find a job for many months; I decided to contact Charles Foster back in December to see if they could assist in my job search. I had never approached a temp agency before and the staff was extremely helpful in answering all of my questions. Joy was simply wonderful to work with - she understood what I was looking for and, in just two weeks, I was able to begin a new assignment. She took the time to answer all of my emails and phone calls regarding my assignment. I can now say that I am happily employed, full-time, thanks to Joy and all the ladies at Charles Foster.
Working with Carley and Joy and everyone at CFS was such a pleasant experience! CFS seems to put a lot of thought and care into finding a placement for you that fits your needs and wants. I have to admit, never having gone to a staffing agency before and hearing horror stories from many others, I was a little nervous going into this. However, within 2 weeks, I had already went on a few interviews and had a few job sites attempting to hire me! CFS was so helpful throughout the entire process, from finding a placement to any questions I had while working, such as coordinating going on interviews for different positions (even though they meant possibly leaving Charles Foster!). To cap it off, the folks at Charles Foster were extremely helpful when it came to my transition becoming a permanent employee at the site I worked for my placement. Overall, if you are unsure about the thought of working for a staffing agency; have no fears, you're in good hands with Charles Foster!
I signed up with Charles Foster when I first moved to SC about 12 years ago also more recently when I once again needed employment. Both times they found me permanent positions at great companies. I would definitely recommend them and use them again should the need arise.
Working with and for Charles Foster was one of the best experiences I've had. I moved down here from Indiana and applied with them and the transition went wonderful and I HIGHLY suggest working for them, You will NOT be disappointed!!!
Charles Foster is an amazing staffing agency. Within 2 weeks after my interview process, I received my first temp assignment, and within 2 months of my interview process, I received a temp-to-hire position. The staff is friendly and efficient, and I have recommended the company to several friends and family members.
I can't speak highly enough of the wonderful ladies at Charles Foster staffing. Joy, Carley, Elaine, and Lydia were a pleasure to work with. They took the time to understand the type of temp assignments I found interesting and provided me with a steady stream of relevant work until I landed a permanent, full-time offer in my field only 3 months later. I've referred others here & HIGHLY RECOMMEND!
I have worked with multiple temp agencies over the years, but the only consistent one has been Charles Foster. I have used them from time to time since 2001 and have never been disappointed. I had a tough time finding employment after I decided to leave restaurant management because I had a food and bev stigma that surprisingly a lot of companies find undesirable. The women at CFS worked diligently to place me in a position that would meet MY needs. I say my needs because I am a single mother and I had a part-time night job I had to continue to work until I found a permanent day job. Even though I had placed restrictions on my schedule, they still offered me positions outside of those restrictions and let me make the choice to submit my resume to the company or refuse. I was also given opportunities to fill short term temp positions that ranged from a few days to just a few weeks just to get extra income and it was through one of those short term temp assignments that I was offered a permanent position. I was only supposed to fill a position for 3 weeks, but after I completed the assignment, they offered to keep me in another position. I have now been hired permanently and the match couldn't have been more perfect. I was not going to even accept the assignment because I wanted to hold out on another position that I had interviewed with, but thanks to Carley and divine intervention, I am now super content.Reading the negative comments, You have to realize when you go through an interview process with any agency, company etc. you are being analyzed. As a former manager that did interviews, experience is not the only factor. Personality, attitude, professionalism, past work history, references and appearance are also factors. They can market anyone, but would any company like to market someone that could potentially hurt their reputation? And once they successfully market a person, its always up to the candidate to sell themselves in the interview. With all that being said, the women at CFS go way beyond any staffing agency I have ever worked with and I highly recommend them to anyone needing assistance in finding employment.
I registered with Charles Foster in October of 2013 and when I came in to interview with one of the placement consultants I immediately felt that this company was friendly as well as professional. The staff was accessible, communicated well, and genuinely seemed invested in me as a candidate. I have been placed in a temporary assignment currently and the match is excellent.
I had the opportunity to work for Charles Foster for a few month. I was quite impressed with the women in this office. They are strong, energetic and professional. Willing to over and beyond to get the job done. I would and have recommended their services to many. I would use their service again, if I'm ever in the market for a new job.
Overall experience wasgreat. I had put in a little effort but what job do you not put in effort?? I was consistant and landed a great job oppurtunity. Im coming from Miami and was having a hard time finding a GOOD job although its jobs all over charleston so I dcided to come to Charles foster based on the reviews. I went to Carley and Patsey and tihings went smooth. she helped me get a job at the last minute and I went to the interview that day and passesd it!! excited and waiting for next week.
Charles Foster is proud to support fellow Charleston businesses. Among the local businesses we officially support:
What's happening in the job market these days? What do our experts have to say about the corporate sector as it perennially changes? Check out our blog to keep up with our thoughts and views on the pressing matters of the business world.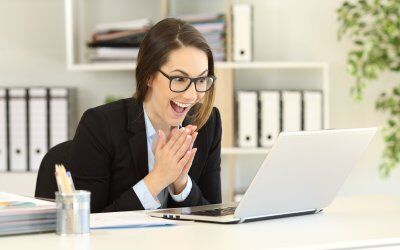 In today's post-COVID digital age, online interviews have become increasingly common, especially in the wake of remote work and social distancing measures. Mastering the art of online interviews is crucial for job seekers who want to make a strong...
read more